Share Your Feedback - We Love Our Customers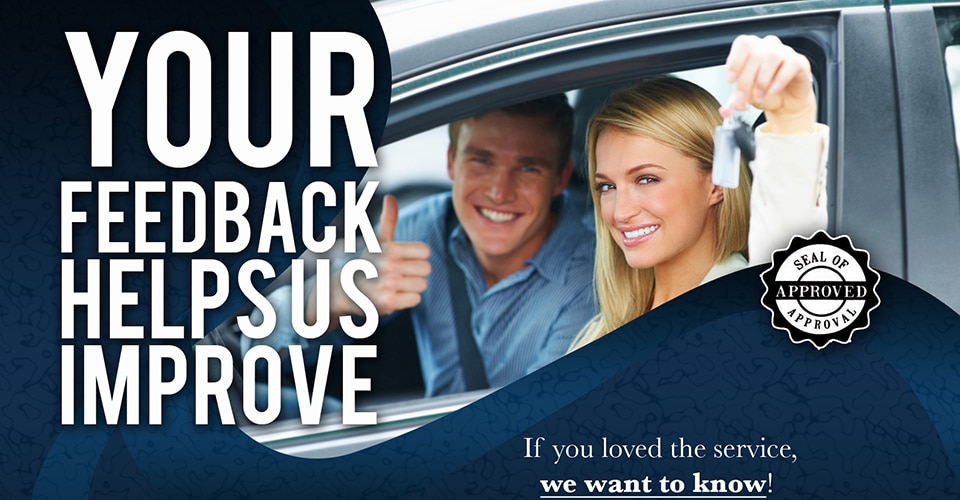 Leave A Review Or Read What Others Have Had To Say About Us!
See what people had to say about La Quinta Chevrolet
" Truly great service..." - Aryanna
Nothing but great experiences with La Quinta Chevrolet. Scott here has helped me with every vehicle service since I first got my car, two years ago, he is always pleasant to speak to and treats you like a person and not a ticket number. He always offers a courtesy ride if you need to leave the vehicle for a service, and will respond to inquiries about service time/cost for repairs almost instantly. Truly great service, you feel like you matter here, like every service is of the same quality and importance.
Aryanna R.
"-friendly, no pressure, very informative..." - Leo
Just got back from a 4 hour round trip drive to pick-up my new car.  The drive may seem far but is was well worth it given the deal I got and working with Joshua B.  and Alex. The process was very smooth and comfortable! We communicated via e-mail and phone to come to agreement on the vehicle and price before I made the visit to the dealership. Joshua is an awesome salesperson... friendly, no pressure, very informative, excellent follow-up, no BS type of person, and willing to go the extra mile for his Customers!!! I highly recommend seeing Joshua at La Quinta Chevrolet Cadillac if you are in the market for a car. After working the deal with Joshua, it was time to see Alex in finance.  No pressure from finance and the process went fairly quickly.  Alex knows his business as well. As I mentioned, if you are in the market for a car go see Joshua and Alex at La Quinta Chevrolet Cadillac...I'm sure you'll have the same positive experience as I did.
Leo D.
"-extremely professional and knowledgeable..." - Gary
Just purchased a 2018 Tahoe from this dealership. Joshua was the sales person that we dealt with. He was extremely professional and knowledgeable about the vehicle. He was very personable and we never felt pressured. Friendly atmosphere all around. Good feeling about this dealership
Gary S.
"-literally the best deal for this particular car anywhere in the US..." - Raymond
I've been looking for a low mileage, fully loaded, 2017+ Hyundai Elantra for a week or so and spoke to several different dealers on the phone. No one would hold a car (even with deposit), no one would verify the photos were of the actual car, no one would do anything without me being there in person - until Christian took my phone call at La Quinta Chevy on a Wednesday. I explained my wife and I were 7 hours away and that we would come down for the car on Saturday morning but wanted to make sure it was the right car for us. He went above and beyond to make sure this wasn't a waste of our time, he gave me a full price breakdown (with taxes, registrations, etc) first to make sure it was what we expected, next he went out to the car and took tons of video footage showing us every minor discrepancy on the car he could find. He knew we had a long drive so he promised he'd have all the paperwork ready when we got there so we didn't need to wait around, Carfax was ready to go as well as a full inspection, oil change, new air filter, car wash, etc. Best of all - the car was $3500 under blue book value (and still has factory warranty). It was quite literally the best deal for this particular car anywhere in the US - so despite the long drive, it was totally worth it. Christian made this process super easy for us, most dealers didn't or refused to even have a phone conversation with us - so give Christian a raise, he's a rock star. Oh, and he called Tuesday night just to make sure we got home safe and were enjoying the car.
Raymond S.
At La Quinta Chevrolet we take customer satisfaction very seriously and are always trying to improve to make your experience better. Whether you bought, leased or serviced any car here we would love to hear your feedback. With your feedback we can continue to improve and make future visits even better.